NEXA SERIES
Double-diaphragm and packed plunger pumps with full motion mechanisms
---
OVERVIEW

---
Capable of superior performance in even the most severe operating conditions, the Nexa Series packed-plunger and hydraulic double-diaphragm metering pumps represent one of heavy industry's most versatile, robust and reliable fluid metering and dosing solutions.

Nexa's exceptional build quality enables stable dosing even under extreme operating pressures and temperatures, from wellhead chemical injection in oil and gas applications to pyrophoric liquids handling in chemical compounds manufacturing.

Designed to meet API 675 3rd edition standard and compliant to Norsok M-501 & M-630, NACE 0175, ATEX2014/34/EU, TR CU 004-010-020-012/2011 and Shell DEP (various), Nexa can be safely operated in hazardous processes, reassuring operators of the pump's suitability regardless of the application.
Technical Features
| | |
| --- | --- |
| Pressure | up to 600 barg for hydraulic diaphragm and 650 for packed plunger |
| Flow Rate | up to 10,000 l/h with a single head |
| Fluid temperature | from -20°C to 80°C (from -40°C to 150°C on request) |
| Wetter Parts | SS 316L, PP, PVDF and PTFE (exotic alloys available on request) |
Mechanism
Full-motion type in seven different sizes, featuring:
Oil-bath lubrication
Low-noise internal worm gearbox
High-precision stroke adjustment for ultrafine volume control
Increased turndown ratio achievable via frequency converter
Housing available in cast iron as standard and nodular cast iron to cope with harsh ambient conditions
Exakta-designed electrical and pneumatic actuators available
Nexa Mechanism
Technical information
Mechanism available in seven different sizes to ensure maximum reliability and best performances.
N0, N1 Mechanisms
| | | | | |
| --- | --- | --- | --- | --- |
| Size | Stroke Length [mm] | Plunger Diameter Range [mm] | Thrust [kN] | Hydraulic Power [kW] |
| N0 | 10 | 4 - 50 | 2 | 0.1 |
| N1 | 25 | 6 - 90 | 5 | 0.4 |
N2, N3 Mechanisms
| | | | | |
| --- | --- | --- | --- | --- |
| Size | Stroke Length [mm] | Plunger Diameter Range [mm] | Thrust [kN] | Hydraulic Power [kW] |
| N2 | 35 | 10 - 120 | 8 | 1 |
| N3 | 50 | 15 - 130 | 18 | 3 |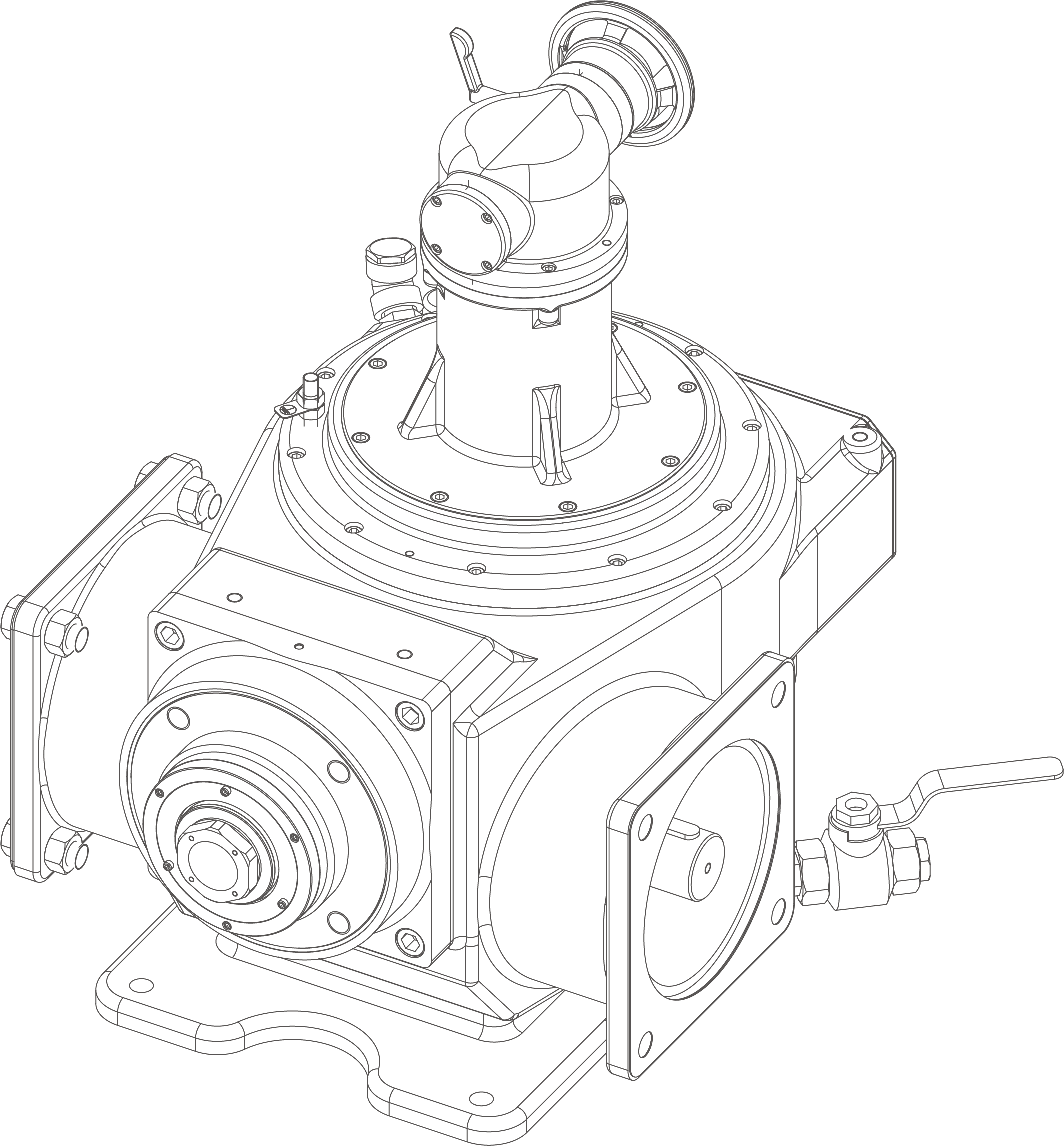 N4, N5 Mechanisms
| | | | | |
| --- | --- | --- | --- | --- |
| Size | Stroke Length [mm] | Plunger Diameter Range [mm] | Thrust [kN] | Hydraulic Power [kW] |
| N4 | 70 | 30 - 130 | 30 | 5 |
| N5 | 70 | 35 - 140 | 45 | 6,5 |
N6 Mechanism
| | | | | |
| --- | --- | --- | --- | --- |
| Size | Stroke Length [mm] | Plunger Diameter Range [mm] | Thrust [kN] | Hydraulic Power [kW] |
| N6 | 120 | 35 - 145 | 60 | 15,7 |
Valves
Exakta is committed to developing flexible and customized valve configurations with flow channels specifically designed to improve hydraulic efficiency while coping with different conditions and applications.
SEAM Cone Valve
Thanks to additive manufacturing technology, delivers high performance with SS 3D printing while allowing endless shape possibilities to meet unique in-valve fluid dynamics for every application.
Features
Lower NPSH required (up to 10%)
Increased volumetric efficiency (3%)
30% lighter than conventional machined valves
Enhanced durability for longer mean time between repair
VEEP Cone Valve
Engineered to cater to diverse fluid demands, VEEP Cone Valve offers outstanding performance while ensuring self-cleaning functionality. Its unique operating direction prevents fluid obstruction to the valve's seals and guide, enhancing its reliability.
VEEP Cone Valve's design incorporates a component of engineered polymer compound that provides excellent protection against abrasive fluid particles, ensuring compatibility with particulate and abrasive fluids.
Features
Lower NPSH required (up to 10%)
Compatibility with particulate fluids
Compatibility with abrasive fluids
Advantages at a glance
Flexibility
The superior versatility of Nexa pump drive unit allows motors to be mounted left-sided, right-sided or even vertically depending on the installation requirements.

Nexa also allows different-sized mechanisms to be coupled, with casings designed to maintain the same foot level in order to allow installation on a flat support base.

An internal gearbox allows pumps with different stroke adjustment to be combined to form multihead units for greater flexibility.
Customization
With Exakta's tailor-made manufacturing approach, customers can personalize their Nexa series pump with multiple drive units combination, hydraulic configurations, piping connections, suction and discharge solutions and accessories to withstand temperature extremes, aggressive chemicals and difficult suction conditions encountered in challenging applications.
Modularity
All Nexa mechanisms, regardless of size, can be easily combined to form larger metering units with significant construction advantages, simplifying assembly and installation.

Mechanisms are coupled together using joints with no exposed parts, resulting in a compact unit with a strong and perfectly-aligned connection which removes the need for a special base.

As process demands for changes in process conditions, users can quickly and easily add a pump to an existing system by performing a few simple coupling operations, even on site.
Industry Applications
Oil & Gas
Wax inhibitors, pour point depressants, asphaltene inhibitors, scale inhibitors injection to prevent equipment blockage

Corrosion inhibitors, oxygen scavenger, biocides, demulsifiers, foam inhibitors metering to extend the lifetime of pipelines and process equipment

Dosing of antifoams, de-oilers, demulsifiers, nitrate inhibitors, sodium hypochlorite to eliminate the water-bearing formations of crude oil and natural gas

Methanol, MEG/TEG injection to remove control the hydrates formation to prevent clogging and choking in flow lines

Drag-reducing agents and polymers metering to reduce the downhole pressure loss during the fluid pumping
Oleochemicals
Fatty acid production and processing for cosmetics, lotions and softeners production

Conversion of fatty acid to biodiesel

Glycerine processing for concentrated flavour extracts, texture improver and emulsifiers
Plastics
Antioxidants for plastic processing where weathering resistance is needed
Colourants for coloured plastic parts

Foaming agents for expanded polystyrene and polyurethane

Lubricants injection to avoid plastic sticking to the mould

Antimicrobials injection to provide a biocide treatment to control germs or fungi
Chemical & Petrochemical
Caustic soda, organic sulphur injection to reduce refinery column-overhead hydrochloric acid corrosion
Sour water for stripper column

Organic chloride, dimethyl disulfide, ammonia, antifoam, odorizing agents, for crude oil separation and conversion for further use

Wash water and condensate disposal and transfer
Pyrophoric liquids for chemicals production
Fertilizers
Metering of nitric acid and ammonia for the production of nitrogenous fertilizers

Injection of sulphuric acid for the production of phosphorous fertilizer

Urea production
Multi-compound fertilizers production
Power Generation
Phosphate dosing to prevent scale formation in boiler tubes

Oxygen scavenger to prevent corrosion

Amine dosing to neutralize the carbonic acid present in the condensate

pH control through ammonia injection

Biocide for bacteria prevention in boilers tubes
Industrial Effluent Treatment
Removal of solid particles
Adjustment of pH levels
Odour control
Disinfection
Sludge treatment and removal
Alkaline water electrolysis for
hydrogen production
You might be interested in

---
Need our Help?
Contact Us
Your request has been sent!
A member of our team will be contact shortly